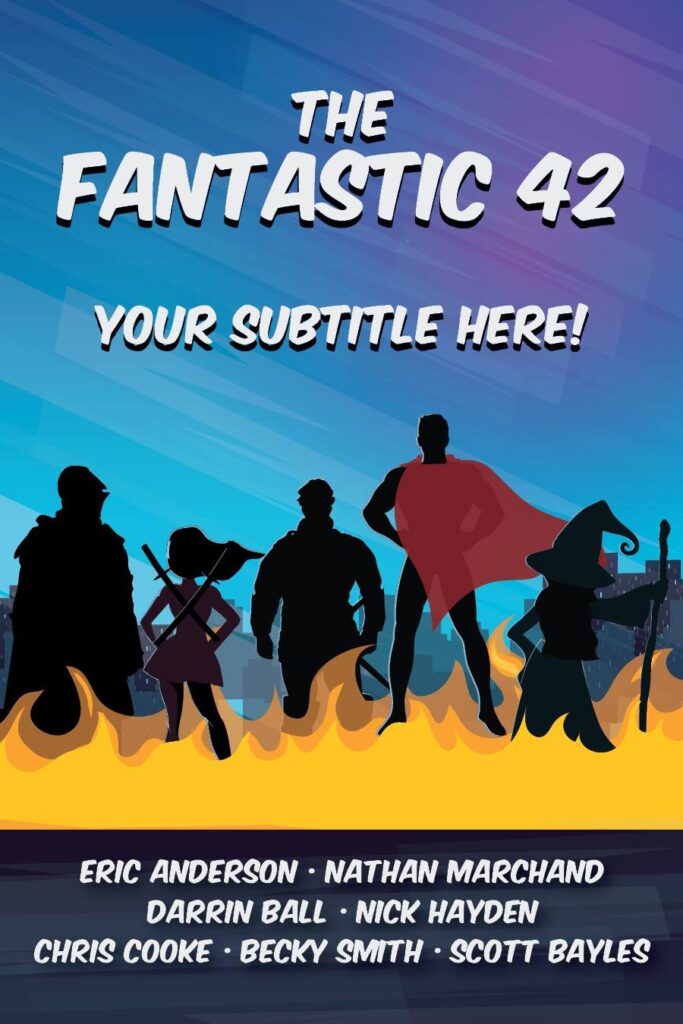 We are so excited! If you keep up with me on Instagram and Facebook you have already heard the big news. Book 3 in the 42 series is coming! The past two books had a more curricular design while The Fantastic 42 is a collection of character studies inviting you to learn from these characters and the Bible. This approach was a good opportunity to invite some other writers into the craziness. We did a public poll to help us get it done but more on that down below.
Here are our authors:
Eric Anderson, co-author of 42: Discovering Faith through Fandom and The New 42: God Terraforms All Things, founder of Nerd Chapel, substitute teacher, board gamer, etc.
Nathan Marchand, co-author with Eric on the previous books in the 42 series, author of Pandora's Box, one of the writers of Children of the Wells, and the main man at the Monster Island Film Vault Podcast.
Darrin Ball, former blogger, tabletop strategy genius who loves Jesus and has great insights.
Nick Hayden, author of The Unremarkable Squire, instigator of Children of the Wells, and half of the Derailed Trains of Thought Podcast.
Chris Cooke from a podcast called One Cross Radio.
Becky "Bex" Smith from a podcast called Redeemed Otaku.
Scott Bayles, founder of Costumers for Christ, pastor, and writer of Holy Heroes: The Gospel According to DC and Marvel as well as The Holy Heroes Devotional.
The Fantastic 42 invites you on an adventure across the multiverse! Come meet 42 amazing characters who will challenge you, give you hope, and inspire you. From the depths of mythology to the streets of 19th Century London; from the castles of fantasy to the lairs of superheroes; from starships to magical forests; we seek to grow through these adventurers and to discover The One Above All. Seven bards have explored both the nerdy realms and the King's writings to bring readers insights, grace, and exhortations. Come learn about God's love for humanity and our own need for Him through some of your favorite characters.
What does an old hermit on a forbidden planet teach us about our own failings? Why on Earth would powerhouses like Shazaam and Thor pray together? How can we possibly learn about identity from a magical teenage girl? Can a bounty hunter really point us to the Way? What should be learned from being turned into a dragon? Also, why is Nathan Marchand wrong about the book version of The Princess Bride? All this and more awaits you as we learn from The Fantastic 42!
Help Wanted:
Want more? Did you notice we don't have a subtitle? We had several great ideas for it and would love for you to help us decide it. Poll closed. The winning subtitle: The Fantastic 42: A Fellowship Facing Doom with Hope.
Tell your friends and family and the multiverse that this is coming.
Look for this to be out in September. The first convention with it should be GenCon in Indianapolis. Find us at Nathan Marchand's table in Authors Avenue. I might have copies at Superhero Sunday on Sept. 12 at Waypoint Community Church in Zeeland, MI but we will see how the wheels turn with the process of completing it.