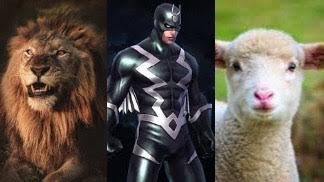 A couple weeks ago the song "Lion" by Elevation Worship came into my head and was there for a while. I started reflecting on the song as it was in my head. The song focuses on Jesus title as Lion of Judah and is taken at least from the Book of Revelations. Here are a few lines for the song:
God of Jacob, Great I Am
King of angels, Son of Man
Voice of many waters
Song of Heaven's throne
Louder than the thunder
Make Your glory known

Hail, hail Lion of Judah
Let the Lion roar
Hail, hail Lion of Judah
Let the Lion roar
Hail, hail Lion of Judah
Let the Lion roar
Hail, hail Lion of Judah
Let the Lion roar

Pride of Zion, prophets spoke
Our Messiah flesh and bone
You alone are worthy to open up the scroll
Like a lamb, You suffered, but the Lion has arose

Lion by Elevation Worship
It is a rousing song, calling for the Lion to roar. The music is great, but the lyrics left me with questions. When it comes to worship songs, asking questions can be a healthy thing. I have liked other songs from Elevation. This one posed a couple questions for me and I think we should ask them.
What does it mean for the lion to roar? In Genesis 1 God is portrayed as speaking creation into existence. In John 1 we find a description of Jesus as the Word of God, present in eternity and involved in creation, and then come to dwell among us. We know that Jesus taught with authority, healed people from many diseases, delivered people from demons, commanded the weather, and even raised the dead. Clearly he exhibited the power represented in this idea of a Lion. Does this answer the question of what it means for Jesus, as the Lion of Judah, to roar? Well, it could be any of these things. Jesus has done far more than we understand. John ends his gospel by admitting that if you were to write a book about all Jesus did and said you couldn't make it big enough. That might be using hyperbole to express something deeper than he could communicate but the point stands whether he meant it literally or in hyperbole. Certainly the huge variety of prayer requests Jesus answers are not marketed. Miracles do not typically make the evening news and no place in scripture promises that we will ever hear about all that God does for us.
In Marvel Comics, Blackagar Boltagon, better known as Black Bolt, is the King of the Inhumans. He is responsible for their well being and powerful in his own right. He spent years learning to control his powers, especially his sonic powers. When he speaks it destroys buildings. Even a whisper is deadly. We don't want to know the result of his shouting. The only time he can speak without these consequences is when he is in the Quiet Room, where his sonic powers are nullified. He lived in this one room for years until he was 19 and had mastered his abilities. His ability for self control is amazing because if he doesn't use self control it kills those around him. Instead of using his sonic powers he uses his other powers such as strength, flight, and martial arts. Quite often he just has his Inhumans go on the missions instead of himself.
I wonder if Jesus and Black Bolt have something in common in that they both understand the restraint of power. Jesus spoke and the weather obeyed! He healed, raised the dead and resurrected from the dead Himself. Yet He still chose the cross. Jesus, who has all the power of creation and all the universe at his beckoning, decided that His biggest contribution to us would come in the form of a torturous experience on the cross. He chose to humbly take our punishment as the plan for redemption.
In Revelation 5 we find a deep explanation about this.
Then I saw in the right hand of him who sat on the throne a scroll with writing on both sides and sealed with seven seals. And I saw a mighty angel proclaiming in a loud voice, "Who is worthy to break the seals and open the scroll?" But no one in heaven or on earth or under the earth could open the scroll or even look inside it. I wept and wept because no one was found who was worthy to open the scroll or look inside. Then one of the elders said to me, "Do not weep! See, the Lion of the tribe of Judah, the Root of David, has triumphed. He is able to open the scroll and its seven seals."

Revelation 5:1-5
In that time scrolls with seals often expressed ownership. In this case it would be ownership of the Earth and all of creation. Only the person who owned the scroll, and therefore the property, could open it. So when this angel cries out for the owner who is worthy and John cries it is because no one understands who is in control of creation. Originally in Genesis God gave humanity the role of overseeing and taking care of the Earth under His supervision. Then we decided we wanted to have the decisions making ownership rights that came from the knowledge of good and evil. That time when Adam and Eve ate from the wrong tree? That was us expressing this choice. The angel may speak of a lion, a powerful animal, but that isn't what John sees. He sees a lamb.
Then I saw a Lamb, looking as if it had been slain, standing at the center of the throne, encircled by the four living creatures and the elders. The Lamb had seven horns and seven eyes, which are the seven spirits of God sent out into all the earth. He went and took the scroll from the right hand of him who sat on the throne. And when he had taken it, the four living creatures and the twenty-four elders fell down before the Lamb

Revelation 5:6-8
Where others saw a lion, John saw a lamb. Jesus is worthy to open the seal because he took our punishment on the cross. He chose the form of the slain lamb to redeem humanity rather than be a powerful lion. Just as Black Bolt rarely uses his most powerful tool, his voice, Jesus often chooses other ways to minister among us. Consider how God met Elijah at the mountain. He didn't speak in the earthquake or the wind or the fire. He spoke in the quiet. Read about this in 1 Kings 19.
Secondly, what are we asking him to do? Are we asking Him to heal? To bring hope? Or are we just asking him to come and forcefully change things in a spirit not fitting His kingdom? If you look at the instructions Jesus left, they include healing, praying for others, showing compassion, but they do not include the kind of political power that some Christians think is important. He challenged people to repent of sin but not in a forceful way. He didn't need to use force because He has the authority. For each person the answer to this question is different because we all have different hearts. So we each must ask this about ourselves. Am I asking Jesus to do a powerful work just for my comfort? Am I asking Jesus to bring a drastic change to a horrible situation? Am I more interested in control or in watching Jesus heal and free people from sin and pain?
While the song Lion does include the concept of the Lamb, it simply does not do it justice. They barely spend time on it. You might want to look into the song Lion and the Lamb by Big Daddy Weave which better balances time between the Lamb and the Lion aspects of Jesus.
Is there space for the song Lion in worship? Perhaps. The overall concept of Jesus as a lion does come from scripture. Certainly his act of speaking over weather is an action of power. Each worship leader must make their own decisions with the guidance of the Holy Spirit. I just urge worship leaders to examine their hearts about why any song is chosen.
I had been waiting to write this blog post and this past Sunday our pastor, Peter Yoshonis, preached on this aspect of Jesus. So yes, some of this post was influenced by his sermon. You can see it here. Or you can go here for the whole series about Jesus.