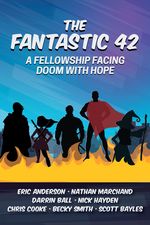 Hey look what is on Amazon! The Fantastic 42: A Fellowship Facing Doom with Hope is now available. This is part of the 42 Series, a collection of nerd friendly devotionals that I began years ago as a collaboration I do with Nathan Marchand.
Our premiere event with this book is GenCon 2021! 6 years after the first book premiered at the same convention we are back at it again. If you are at the con stop by Nathan Marchand's table in Author's Avenue to get your copy. Nate also has two other new books this year: Zorsam and the God who Devours, (a barbarian story) and "Attack of the Kaiju Vol. 2 (an anthology of Kaiju stories).
In my last blog post I introduced you to some of the other writers for this project but if you follow Nerd Chapel on Instagram you will see many of them appearing on my Monday Hangouts this September. So start following nerd_chapel on IG if you are not already doing so.
If you won't be at GenCon you might come see me at Fiasco iN3D October 1-3 in Romulus, MI. This is a con I attended virtually last year and it was a great time. I'm doing a Nerd Chapel Sunday Service there 10am Sunday morning and I'm also on a panel where you get to hear form people who are well traveled. I will also be at Michigan Statewide Teen Convention in November with a book table and volunteering on the tech team.
If you don't plan on seeing me at any of these shows you should check out the Amazon page to get your own copy of The Fantastic 42.